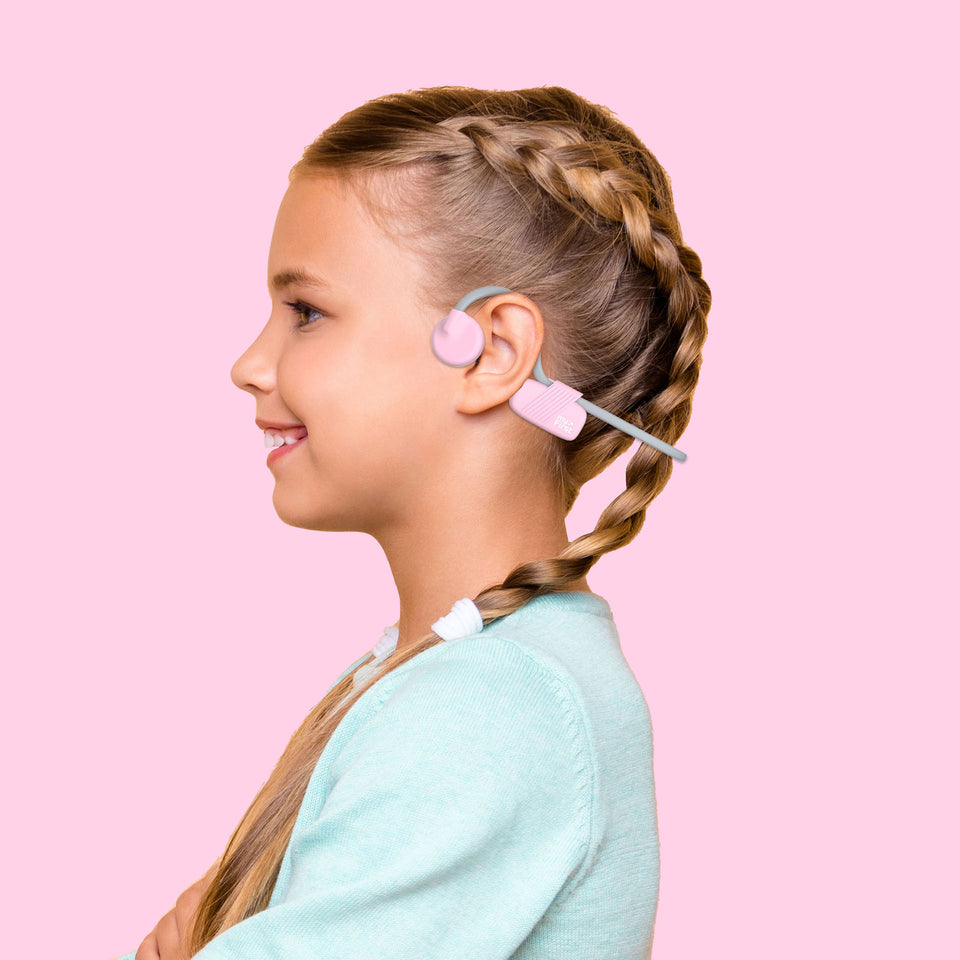 myFirst Headphones BC Wireless Lite
FH8504SA-BE01
Wireless Lite Bone Conduction Headphones for Kids
Introducing myFirst Headphones Bone Conduction Wireless Lite (BCL), specially designed for 3 to 12-year-old kids. Engineered with bone conduction technology, these headphones provide a unique listening experience by transmitting sound through cheekbones, leaving ears open to the environment. With a maximum volume control set at 85dB, they ensure safe and comfortable listening for young users. Explore a world of sound without compromising on safety with myFirst Headphones BCL.
Safe For Kids
Open Ear Design
Ultra Lightweight

Experience Open-Ear Listening
Unlike traditional headphones, BC Wireless Lite uses bone conduction technology to transmit sound via the cheekbones. This technology leaves ears open to the surrounding sounds. Audio is set to an appropriate volume, ensuring safe levels of listening to the child.

Soft rubber contact points on myFirst Headphones BC Wireless Lite provides comfort, even on long usage periods. Perfect for long flights and rides!
Bone Conduction Technology
Bone conduction technology allows for music to be transmitted via the cheekbones. Kids can listen to music while remaining alert outside.
A Perfect Travel Companion
Unlike wireless charging, this headphone comes with a USB Type-C (or USB-C) as it is a way convenient way to stay charged. Now you can move around freely for longer periods of time with a decent nose reduction.
Specifications
What's Inside
Wish Card
• Music playtime: 5 hours
• Standby time: 20 days
• Charging time: 1.5 hours
• Speaker impedance: 8Ω±15%
• Frequency Range: 20 – 20kHz
• Microphone sensitivity: -42dB±3
• Product weight: 28g±0.2g
• Connection distance: 15 meters
myFirst Headphone BC Wireless Lite
USB Type-C Cable
User Manual

I'm thoroughly impressed with the Bone Conductor Lite headphones. They offer a safe and comfortable way for my child to listen to audio without placing anything inside their ears. The variety of colors available allows them to choose a pair that matches their style.
The Bone Conductor Lite headphones for kids are fantastic! The unique bone conduction technology allows my child to enjoy their favorite music without blocking their ears, ensuring they stay aware of their surroundings. The different color options add a fun and personalized touch to their listening experience.
The Bone Conductor Lite headphones are a parent's dream come true. The different color options make them exciting for kids, and the bone conduction technology ensures their ears stay safe while enjoying audio. It's a win-win for everyone involved.
Surprisingly amazing.
My kid uses this bone conduction headphones for everything.
I purchase them for a trip and so far have been working great.
These headphones are a must-have for my child's tech accessories. The bone conduction technology is remarkable, and the different color choices add a touch of personalization. They are comfortable, stylish, and perfect for everyday use.